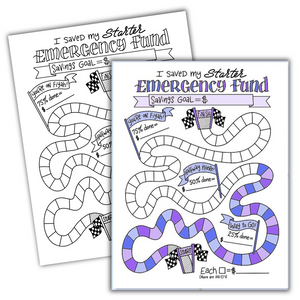 Love!!
I'm old school & I love having pen & paper to keep track of everything. I'm also not as creative as I wish I was so these trackers are so cute & fun! I am obsessed!!
I love these charts!!!
The starter emergency chart is one of my favorites. I need the visual aspect of filling in the chart to help me achieve my goal.
Easy & fun to use
I have started filling this out to keep an eye on the growth of our emergency fund. Also fun with the kids to show how and why it is important to work on these things.
I also have the Emergency Funds Lettering Set which I plan to use once the starter emergency fund is in place. Can be found here:
https://debtfreecharts.com/collections/all-charts/products/emergency-funds-lettering-set
Overall great
We were actually looking for a house saving one but couldn't find it at the time, so we opted for this one. Excited and motivated to see the progress over time!
Great Visual Reminder
This is the second time I have used a Debt Free Chart for saving for emergency fund. I love it as it really inspires me to complete it. Hopefully I will be on to my third chart soon.