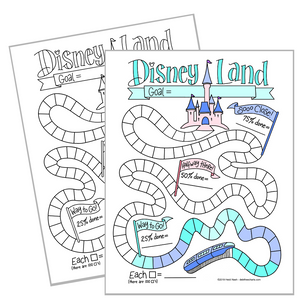 Great way to keep me accountable and keep it fun!
As a Disney lover I use this help me track down my debt. Although it seems likes its for a countdown, loving Disney so much, I just made it to be savings and for my debt that I am paying. Fun idea. Love that I can utilize it to my needs.
A fun way to save for our next trip
Such a fun way to save for our next Disney trip. Fun part is, I can reuse it FOREVER. Both the 100 doodle tracker as well for an upcoming WDW trip.
Love it!
I cannot wait to one day use this chart to go to Disneyland with my husband! I've already coloured it in and got it ready for my book once we have met some other savings goals.
Super cute and fun!
We love our Disney chart! The kids are so excited to save up for our trip!