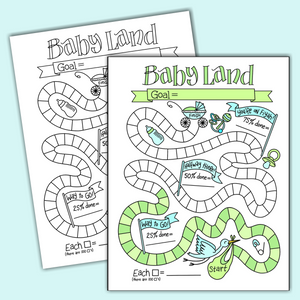 Perfect for Pre/planning
I'm TTC my 4th kiddo and this will be my first time using the Babyland chart. I already love it because it gives me the opportunity to sit down with my husband, who is TTC his 1st baby with me (3 step kiddos), and look at the whole picture of my reduced income and what we actually need for baby gear or a new vehicle. Previously, I had a baby shower and hoped for the best but this is WAY BETTER and gives us a feeling of security financially.
Fun way to save for baby!
My fiance and I love this Baby Land chart. We are so excited to begin our family after we get married this upcoming spring and know how important it is to have some savings for this big life event. Ever since getting the Baby Land chart, we've been more motivated to put aside money for the baby. More often now we decide to save money and excitedly declare it's for the baby fund - then we rock, paper, scissors for who gets to color in the next step on our Baby Land chart :D
Love this layout
I'm not expecting but I want to be prepared for when I am! This layout is amazing and one of my favorites!
A sinking fund for baby showers!
I don't plan on having any more children of my own, but I DO know plenty of people who will, so I'm using this as a sinking fund for their baby showers and new baby gifts and expenses. Having a fund on hand allows me to always be able to provide registry gifts or a few extra necessities, or even to hit the store for ingredients to prepare freezer meals to give the new parents one less thing to worry about. It feels so good to always be ready to give!
Save for baby
Great visual design for those saving for a baby. Being able to color it yourself makes it more personalized.