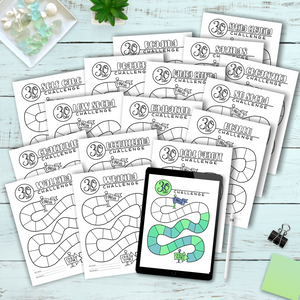 Perfect for what we needed
These are great, thank you!
Love this set!
I constantly need a way to keep myself challenged in my life. This set has been a great help and it's fun to color in all of the spaces. I print out 4 challenges to a page to help reduce paper.
Much more fun!
This 30 day game chart has made sticking to my goals so much more fun! I loved it and found myself actually sticking to it. Being able to see this in a fun way and visually was just what I needed!
Motivation!
I'm a visual person and I LOVE coloring each block as I achieve my goal!
Turns a mile into a sprint!
I have many, many charts printed, most of which are for long term use, so I'm no stranger to tracking goals. This set is different, however, in that it makes it easy and fun to do a sprint of even the longest projects or payoffs. If you have an overwhelming task ahead of you, you can break down those larger goals into something smaller that fits one of these charts to visually gain new perspective, which can be vital for success once fatigue sets in. You can also use these to develop new habits 30 days at a time! This set offers enough choices to fit anyone's needs, and with that much variety I'm always finding new ways and reasons to use them. I highly recommend these pages!